Gaming, and mobile gaming in particular, is continuing its meteoric rise in the entertainment industry. More people are playing games than ever before as they look for social interactions and fun ways to spend their free time. IronSource has released statistics and trends to understand what to expect from games in 2022.
Newzoo estimates that mobile gaming generated $93.2B in 2021, a 7.3% increase YoY. To put that figure into perspective, the global Box Office revenue was $21.4 billion in 2021 according to a Variety analyst, and the global recorded music market generated around $57.05B in wholesale revenues in the same year according to The Business Research Company. In other words, mobile gaming alone generated more annual revenue than the music and film industries combined. Let's take a look at more statistics and trends to help us understand what to expect from gaming in 2022.
Mobile game industry statistics
App Annie states that there were 82.98B game downloads in 2021
App Annie states that consumer spending on games reached $116B in 2021
There are over 4.7 million apps and games available worldwide on the Apple App Store alone as of August 2021
Mobile gaming makes up 57% of total gaming revenue according to Statista
According to Adjust, mobile gaming is expected to reach $272B by 2030
APAC is the largest and fastest growing regional market for mobile gaming according to Unity
21% of Android and 25% of iOS apps downloaded are games according to Adjust
Google Play revenue continues to increase at a greater level than iOS App Store revenue: 19.6% to 13.2%
The mobile game market
Looking at the fastest growing genre within mobile games, recent data from App Annie shows that hyper-casual games were the number one genre for downloads in Q3 2021, accounting for over 3.5 billion downloads worldwide. Within the overall genre, action, puzzle and simulation games were the most popular.
For marketers, mobile gaming accounts for 50% of all user-acquisition ad spend across all verticals according to Adjust – APAC spends the most taking up 64% of spend. To put this into perspective, the second-place vertical, e-commerce, makes up only 16%. Mobile gaming monetizes incredibly well, evolving and innovating according to the times, which means they're able to fund their UA activity.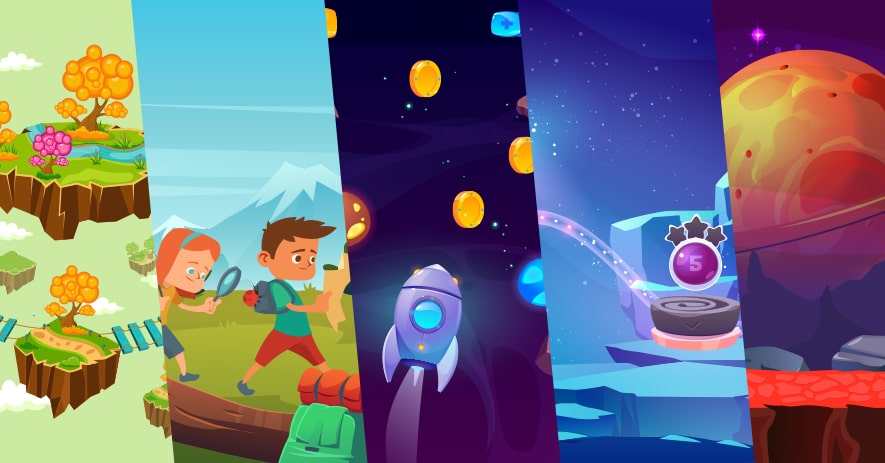 Retention rates, from day 1 to day 30, are highest in North America, which beats the global retention benchmark by between 1 to 2 percentage points across the curve. Genre-wise, social casino has the strongest retention curve, with 2x the D30 retention than Hardcore and almost 3x the retention of midcore and hyper-casual.
Trending mobile games in 2021
According to App Annie, here are the top 10 mobile games in the US from 2021 by downloads:
Bridge Race (Supersonic)
Hair Challenge (Rollic)
Count Masters (Ascella Mobile)
Phone Case DIY (Crazy Labs)
High Heels (Zynga)
Going Balls (Supersonic)
Stacky Dash (Supersonic)
DOP 2: Delete One Part (SayGames)
My Talking Angela 2 (Outfit7)
Sculpt People (Crazy Labs)
Mobile gaming industry analysis and trends in 2022
With IPOs, iOS 14, legal battles, and new business models grabbing the headlines, there's no question that 2021 was an eventful, record-breaking year for the gaming industry. To prepare for 2022, here are some major trends that you should be paying attention to.
1. Play-to-earn is growing
Play-to-earn (P2E) is the most influential business model since pay-to-play, and more recently, free-to-play. Developed with blockchain technology, P2E games let players generate real income held in a crypto wallet – they can even resell their assets whenever they want.
With the free-to-play or pay-to-play model, users spend virtual currency to get upgrades, progression boosts, character skins, etc. but the currency has no value outside of the game. So, when a user churns, the currency disappears.
On the other hand, with the P2E model, users buy or earn currency and resources that they can trade or sell to other players. Outside of the game, these assets can be sold for cryptocurrency, which can then be converted into fiat money.
Some games have already mastered the P2E model. In fact, a well-known NFT-based app that allows users to buy and sell characters has become a meaningful source of income for many people.
While P2E is still in the early stages (there are still many unknowns and obstacles), there are significant investments pouring into blockchain gaming companies and the space will innovate and evolve significantly in 2022.
2. Brand building is king
It's no secret that privacy changes have presented new challenges for mobile user acquisition. As UA gets more complicated, building a brand and community around your app is more critical than ever for scaling installs and improving retention.
As brand building becomes a focus, we'll see more positions for community management. This way, you have someone devoted to deepening user engagement and building a stronger shared experience between players. There will also be more brand marketing campaigns, as developers compensate for the complexity of performance marketing activity in this new privacy era.
It's likely developers will also start dedicating more time and resources to building online communities, whether by working with influencers or live streaming on platforms like YouTube or Twitch. Keeping users engaged somewhere besides your game itself is vital in today's landscape.
Some developers have already begun improving user engagement through brand building and community management and, in 2022, many more will realize the immense value.
3. More companies entering gaming
Big entertainment companies and major tech giants experimented with gaming this past year, intrigued by the industry's market size and expansive reach.
The Apple Arcade and Google Play Pass are subscription-based, all-you-can-consume libraries of mobile games. While Amazon's game division has been around for some time, it released its first hit in almost a decade this past year, the MMO 'New World.' Even Netflix has branched away from its core business model, developing titles available on iOS devices globally. And TikTok and Snapchat are proving that social media apps can be great publishing platforms.
With tons of apps entering the market, those focused on the "attention economy" are looking for ways to stand out, gain a competitive edge and retain users. In short, being a leader in gaming is becoming an exciting venture.
4. Changing dynamics in store ecosystems
The app economy is becoming more democratized, spurred on by the Apple vs. Epic Games case.
Epic believed that Apple had too much control over its app developers, which is why they proposed a universal app store that would take lower commissions. Due to the battle, today, developers can direct users to their personal sites to collect payments for subscriptions or in-app purchases, rather than going through the App Store and paying a fee. Meanwhile, Google just decreased the commission fee for subscriptions to 15%.
The boiling tension between stores and developers is also evident in the PC market. Steam, for example, banned blockchain technology, including NFTs, for the games on their platform. Epic Games, on the other hand, opens its doors to NFTs and cryptocurrencies.
In 2022, we're likely to see more democratization of the app economy, instigated by some of the world's largest developers, potentially resulting in new models of app distribution.
5. Metaverse growth
"Metaverse" has become a mainstream buzzword this past year. While it's unclear what the metaverse will look like for the industry, essayist Matthew Ball gives his insight. According to Ball, the metaverse will:
be persistent,
be synchronous and live,
be without any cap to concurrent users,
be a fully functioning economy,
offer unprecedented interoperability of data and digital assets (like being able to transfer cool skins from one game to another),
and be populated by all kinds of content and experiences created and run by a huge number of contributors
In 2022, gaming will become intertwined with the metaverse, creating more innovative in-game experiences, such as the Fortnite concerts. Brands will also take a piece of the pie and develop their own gaming worlds, such as Nikeland in Roblox. To support the metaverse infrastructure and with investor money flowing in, startups will emerge to provide users with resources to build in the metaverse, such as making realistic avatars. There will also be more crypto and NFT developments and new ways of using these assets.
2022 will, likely, be the year that the metaverse will become clearer to society, and it's definitely a space to watch.
6. Industry consolidation
The gaming industry has grown incrementally over the past 5-10 years, due in part to the emergence of high-tech solutions to support the gametech ecosystem, from ad networks to measurement tools.
As the industry has matured with its tools, giants in the industry have begun acquiring smaller companies with powerful solutions to expand their offerings and become one platform for developers to manage and grow their app businesses.
For example, in 2021, ironSource went public and acquired Luna Labs, Soomla, Bidalgo, and Tapjoy. AppLovin acquired MoPub and Adjust (Machine Zone in 2020). Liftoff and Vungle merged and acquired GameRefinery, AlgoLift, JetFuel, and TreSensa. In 2022, we can expect to see more M&A.


Got some exciting hyper-casual, casual, mobile news? Share it with us.
Also, subscribe to our hyper-casual news Telegram, LinkedIn, and Facebook.
421