In one of our articles, we have already discussed the popularity of hyper-casual games. Tapjoy team shared useful information about resources that can help you create a game with exciting gameplay and a minimum number of mechanics. We have selected the most important from the article.
Choosing a game engine
Given the rapid pace of a hyper-casual game development, studios don't have time to create their own engines. Fortunately, there are many third-party engines that developers can license. This helps studios save development time.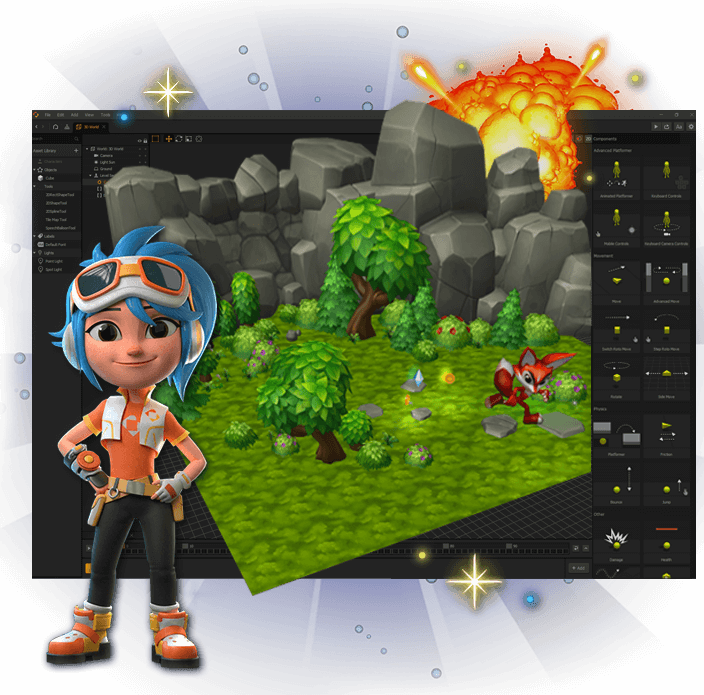 In Buildbox, every supported feature is well suited to hyper-casual game development. Projects can be created without code using visual programming.
GameMaker Studio 2 is a comprehensive environment for a game development. It includes a full suite of tools and lets you create games for Windows, Mac, Linux, Android, iOS, HTML5, Xbox, PlayStation and Nintendo Switch. The engine has a user-friendly interface that makes it easy to design levels and create models using its own programming language.
Cocos 2D-X is a feature-rich game development software that supports Windows, Mac, Linux systems but is more oriented for Android and iOS. The engine offers a user-friendly scene editor and interfaces with various possibilities for creating games.
SpriteKit is a native game engine from Apple. It is usually used to create 2D games. But that does not prevent it from being a good tool for creating animations, textures and more. SpriteKit projects can also be integrated with GameplayKit to extend the functionality.
Unity is one of the most popular game engines. It offers extensive cross-platform support, allows resources to be imported from Maya or Blender, and can be used for 2D or 3D game development. The main advantages of Unity are the visual development environment, cross-platform support, and the modular component system. Many games and applications have been written in Unity, spanning multiple platforms and genres.
Choosing a design for a hyper-casual game
When designing hyper-casual games, it's essential to keep your audience in mind. Most players want short but engaging gameplay to pass the time on bus or on a break. Players should complete a game session in less than a minute. Here are a few more essential tips:
Hyper-casual games focus on a single core mechanic.
Minimalistic interface and artistic design. Players should learn the rules quickly, without going through tutorials.
Players must grasp the concept of the game within seconds of launch.
Use A/B testing to optimize all aspects of the game.
Be aware of mobile trends that you can use in your work.
Take advantage of existing game mechanics and find ways to improve gameplay.
Finding your own take on current game mechanics is an easy way to develop your portfolio.
Hyper-casual resources
Creating resources for a game can be a real challenge for aspiring developers. The services below offer a wide range of built-in assets; textures, character models, levels.
Educational Resources
As such, there are, almost, no courses on hyper-casual games. But, there are educational resources, books and courses that offer practical advice to developers:
The book Crushing Hyper Casual Games. The developers of Buildbox have published a 100-page e-book that details the process of creating hyper-casual games – from concept to marketing.
The F2P Toolbox book. Hyper-casual is a natural evolution of current trends in mobile gaming, especially in terms of free-to-play (F2P) advertising. This brainstorming toolbox highlights the most important game design lessons and publications.
Unity official website. Develop your Unity skills with over 750 hours of online classes and tutorial content explicitly designed for hobbyists and professionals of all levels.
The best way to learn about hyper-casual games is to create them. Choosing the right game engine, following general design principles and using essential resources will put you on the right path to creating a successful and engaging game.
You can also follow the news on the website in the Development category, where we post interesting articles and tips about game development.
527