Sensor Tower reports that the top 1% of Android and iOS app publishers accounted for 91% of the total app revenue that the mobile industry generated in the first six months of 2022.
Sensor Tower examined the revenue and download dynamics of 900,000 gaming and non-gaming apps. The company showed that 9,000 publishers, or the top 1%, generated $42 billion in revenue in the first half of 2022, while the rest of the companies generated only $4 billion.
Tencent, the Chinese tech giant behind many popular games, including PUBG Mobile and Honor of Kings, ranked first in revenue in the first half of the year, with $3.3 billion, accounting for 7% of total app revenue. Tencent is followed by ByteDance, which owns TikTok — the company ranked second with $1.3 billion in revenue.
According to the Sensor Tower report, the top 1% of companies accounted for 79% of all app downloads in the year's first half, equating to 72 billion installations. The remaining 99% of companies produced 15 billion installations. Meta and Google shared the top 2 spots with 1 billion downloads each.
In the first half of 2022, the top 1% of game developers who participated in the study earned $27 billion, which is 93% of total revenue. At the same time, the other 99% earned only $2 billion.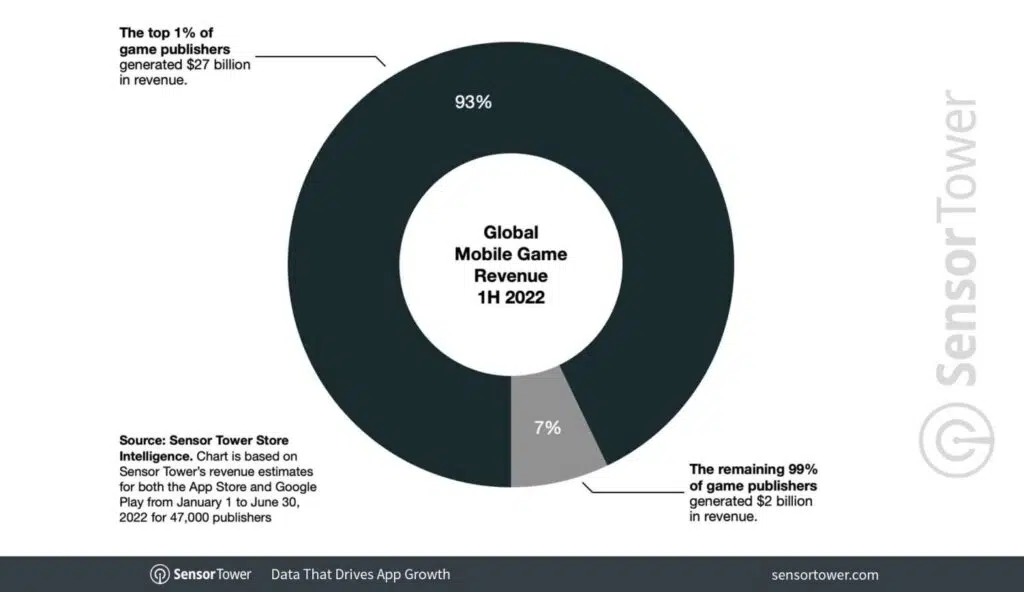 AppLovin, Embracer Group and Supersonic Studios were the most successful game publishers, which accounted for 5 billion installs, 22% of all downloads.
Sensor Tower research also showed that the dominant one per cent has been losing power over the past three years. For example, in the first half of 2019, companies that are part of the one per cent were providing 82% of all game downloads and 80% of total downloads, and in the first half of 2022, both figures have dropped to 79%. Similarly, gaming's share of total revenue decreased from 95% to 93%, and its share of app revenue dropped from 94% to 91%.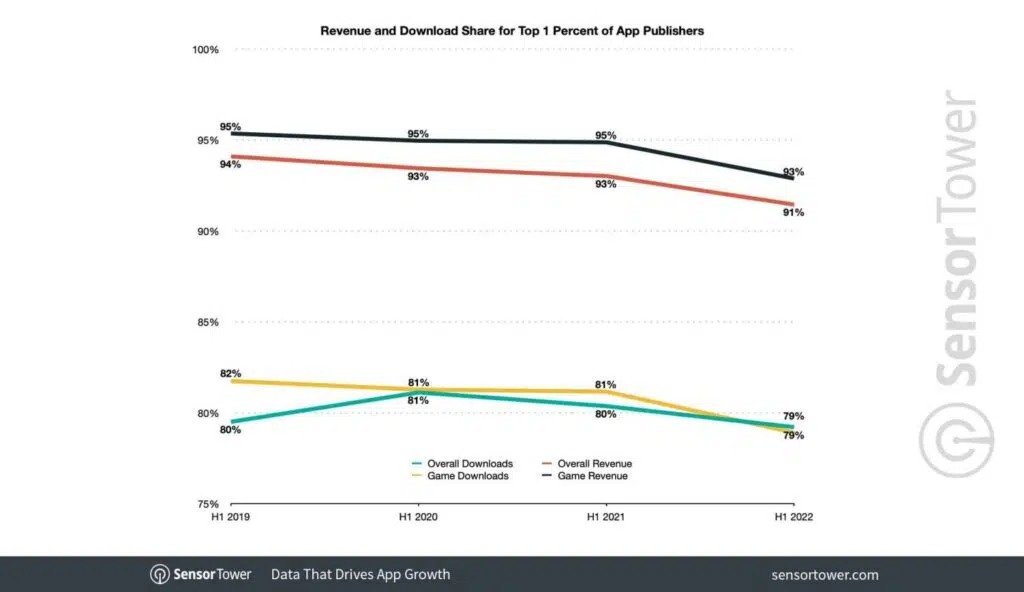 Side note: According to IronSource, Generation X makes more in-app purchases.
474