Analysts from InvestGame have calculated investments, public offerings and completed transactions in the gaming market over the past 9 months. Revenue amounted to $57.7 billion, 72% more ($57.7 billion vs. $33.6 billion) than in 2020 for the same period.
In the first 9 months of 2021, 667 transactions were carried out that are related to the gaming business. The total value of transactions increased by 2.5 times and by 46% compared to the same period in 2020, with significant growth in all categories.
In monetary terms, transactions with gaming companies accounted for the largest share of the gaming investment market – 75% or $43.3 billion.
Most of all fell on mergers and acquisitions of companies (almost $28 billion). In second place are public placements ($21.2 billion), in third place is private investment ($8.6 billion).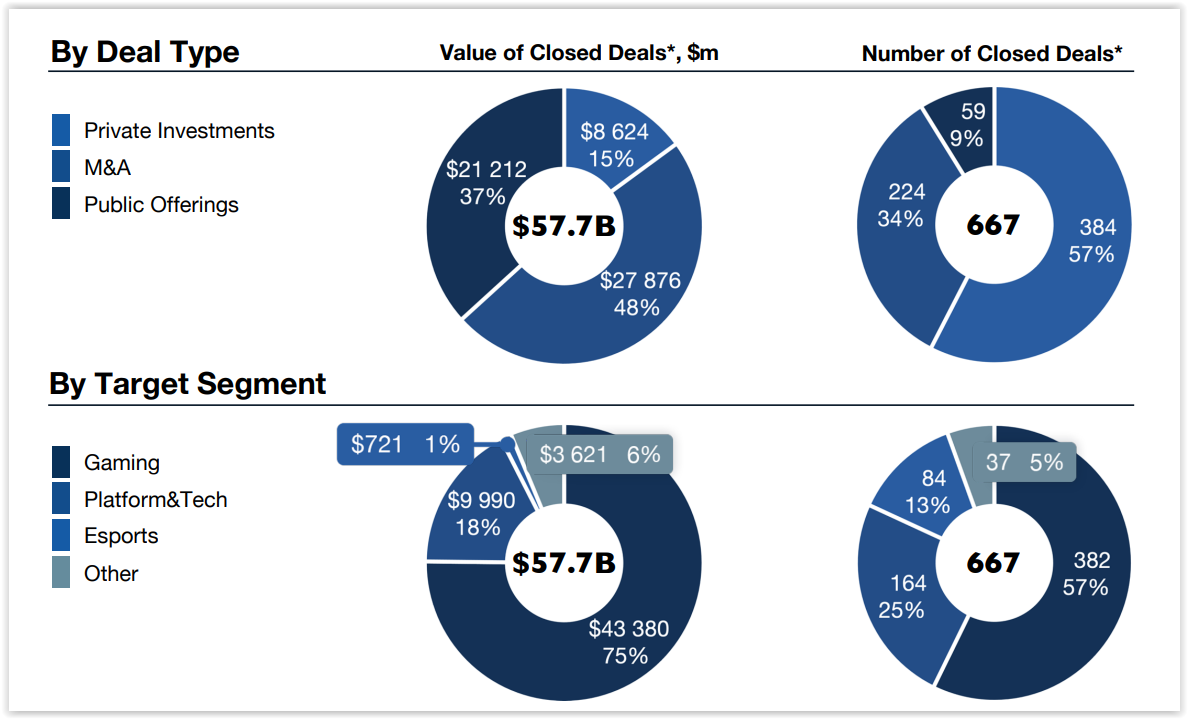 The total value of IPOs on the stock market for the first three quarters of 2021 was $21.2 billion. For comparison, a year earlier over the same period, this figure was much less – $9.6 billion. The largest placements of this year were with the companies:
Krafton ($3.75 billion)
Bilibili ($2.6 billion)
ironSource ($2.3 billion)
AppLovin ($2 billion)
Playtika ($1.9 billion)
Private investment
Private investments in gaming or companies related to the gaming industry amounted to $8.6 billion (83% more than a year earlier). The largest investments:
Sorare ($680 million)
Discord ($500 million)
Jam City ($350 million)
Dapper Labs ($250 million)
Tencent is the leader of investments and accounted for 69 transfers out of 134 made in the first nine months of 2021.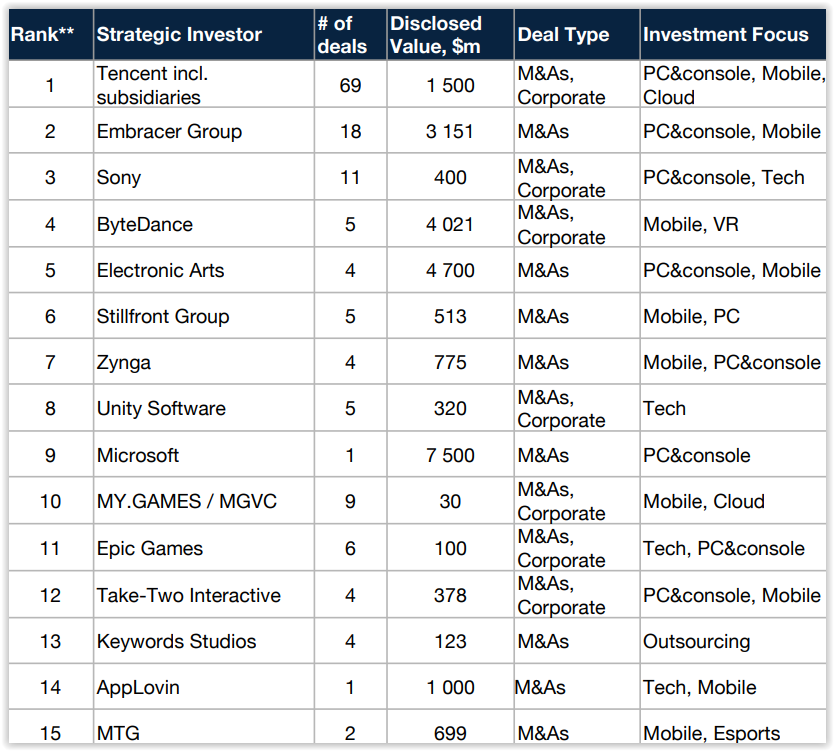 Mergers and acquisitions
In 2020, transactions equaled $8.4 billion for the first quarter, in 2021 – $27.9 billion. In monetary terms, the mobile sector accounted for 84% of the total amount. The largest mergers and acquisitions this year at the end of September:
ZeniMax ($7.5 billion)
Moonton ($4 billion)
SpinX ($2.19 billion)
Glu Mobile ($2.1 billion)
Playdemic ($1.4 billion)
Gearbox ($1.3 billion)
Sumo Group ($1.27 billion)

Blockchain
The most significant hype at the moment is blockchain games. In the third quarter of 2021, deals worth more than $1 billion took place. This is a staggering 34x growth over the same period in 2020. The largest rounds of sales were:
Sorare ($680 millions)
Dapper Labs ($250 millions)
Forte ($185 millions)
142