Flime is a young hyper-casual game development company from Belarus. Since its inception, the guys, together with Gismart, have managed to mark five successful releases. Two of them have already managed to get a total of 45 million downloads. One of the latest projects, Foil Turning 3D, crossed the 30 million install mark in December 2020. At the same time, another project from Flime – VIP Guard – also showed itself well, breaking the 15 million mark.
In terms of production, these games were completely different. For example, VIP Guard showed reasonable retention rates right away, which was a good prospect. D1 – more than 30%, besides this, and a low CPI – $0.14 on iOS. It became clear from the first iteration that it was a hit and needed to release. All the company had to do was a little polish. The guys built awards into the game, a small meta and the game went into release.
Foil Turning 3D, in terms of product iterations, was a challenging game that not everyone could play. Initially, its gameplay was limited to mechanics in which the player had to tap a foil ball.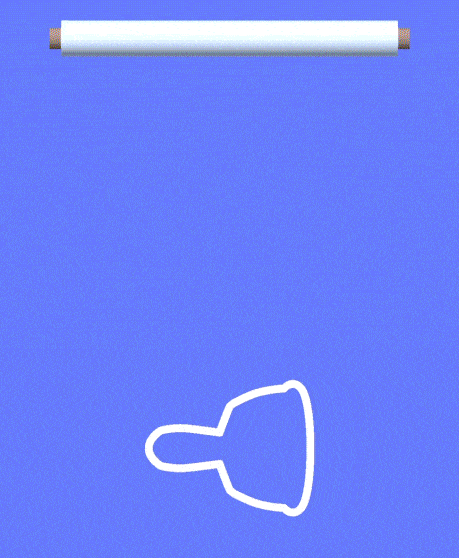 The metrics weren't good enough, with retention at around 27%. Flime did several iterations, tried different tricks, but it didn't give the desired results. At some point, the team thought about closing the project. The team decided to refine the gameplay.
After tapping, polishing the foil, the ball had to throw into a vase. This iteration gave a crazy boost to metrics, with retention reaching 40%, which allowed the company to launch globally. But even at the final stage of the launch, when Flime saw the difference in CPI and LTV, this project did not look promising. In the end, thanks mainly to the gameplay that is interesting to a broad audience, the project took off.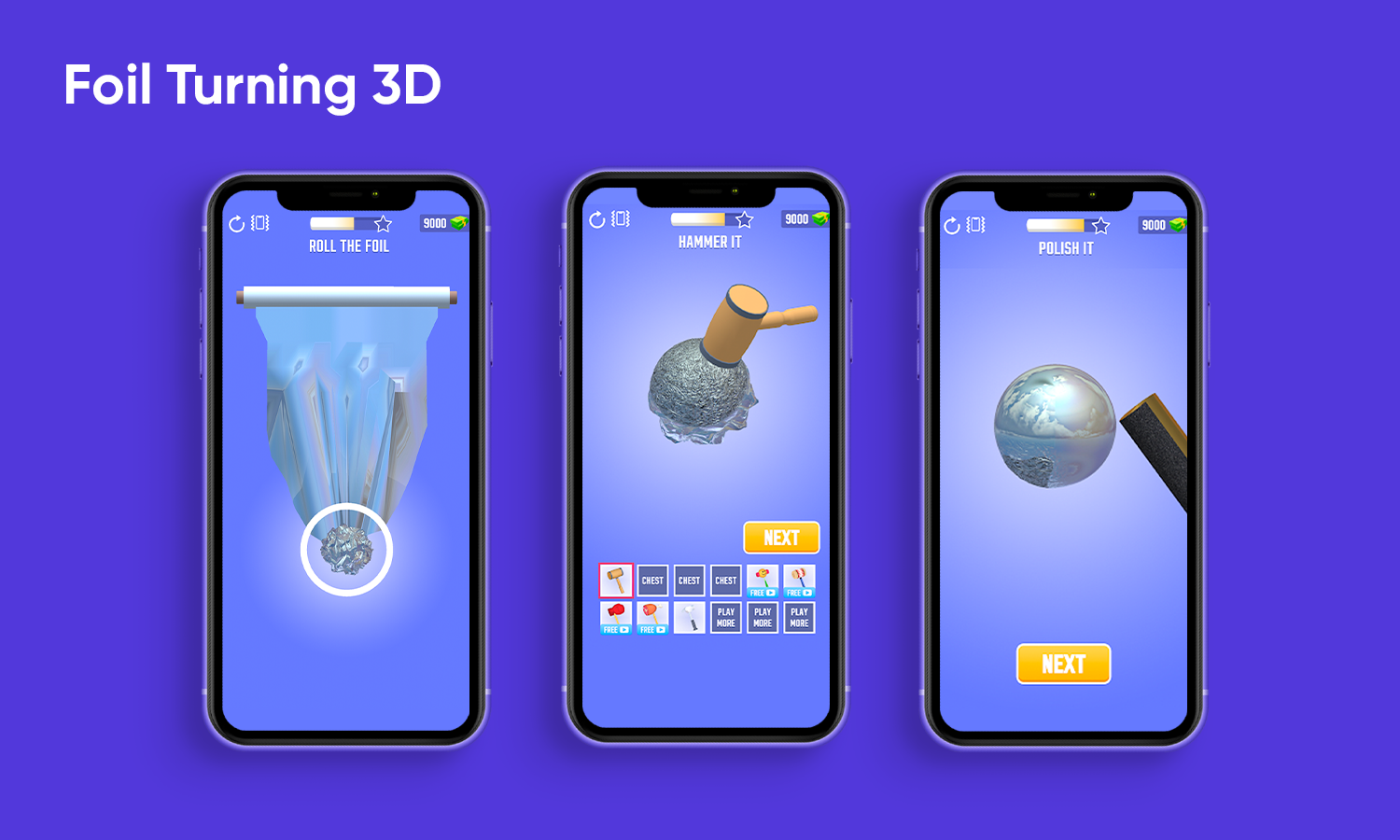 Initially, Flime had no plans to engage in hyper-casual games. The team planned to apply their expertise in the HTML5 games market (before the launch of Flime, the guys worked in a startup that prepared projects for Instant Games). With this desire, they turned to Gismart as a partner who worked closely with Facebook, Snap and other well-known companies.
The first project was a game for Facebook Instant Games – Word Search Together. The game has been downloaded over 20 million times. It is profitable to this day.
After that, Flime began to look for new directions and ways of development. Thanks to Gismart and established partnerships, the company was among the first (along with Zynga) to enter Snap Games. A year later, Flime became their crucial partner. Color Galaxy game is one of the platform's flagship products.
Snap-direction brings good money when the team is at the forefront of the industry: Snap Games is applying new developments and features, primarily on the Flime product. Through brainstorming and close collaboration, the teams discussed what worked best and what was worse.
Also, a little over a year ago, the company launched the development of native hyper-casual games. After a massive amount of trial and error, the company managed to develop specific rules and guidelines that allow them to launch successful projects in this niche.
How did the growth begin?
Initially, the Filme team was 3 people, but they quickly recruited new staff. The first money is earned, the company invested in recruiting a team for hyper-casual games.
Now they continue to invest in the development of their studio actively. The company already employs over 70 people.
When the studio launched the direction of hyper-casual games, they focused more on traditional approaches to project management – SCRUM, Kanban and other methodologies. The construction of the company was based on these principles. They built clear processes and hired people for these processes. This led to the team not having time to launch products.
In the hyper-casual direction, speed and flexibility are essential, but the studio built processes for the sake of methods, believing that it was more important than anything else. We couldn't even launch projects with low CPI.
For our complex work processes, a team that is suitable in spirit has not always been assembled. As a result, talented guys left the company. They understood the full extent of the mistakes. Departed employees may still think that Flime still has the same processes, resulting in a waste of time.
But, the departure of top employees made the company realize that they were doing something wrong.
About processes
Today, within the hyper-casual direction, we have four internal studios. Each of them is autonomous: they determine the processes, which people to assemble, which products to make, and how to scale.
At the same time, there are 3 whales on which Flime builds work. Team independence, product responsibility and product focus.
And for all this, the team has a bonus system, a percentage of the net profit of the product. The team that made Foil Turning 3D received a bonus to their salary of up to $10,000.
About development
The whole point of hyper-casual games is the CPI race. At the same time, the market is maturing; finding a concept with a low CPI is no longer enough to make a hit. The focus is shifting to keeping the game up to good metrics.
The main point is well-established marketing research. Now all Flime products that they take to work have a good CPI prediction right away.
One studio usually works on 1-2 projects. Each team has 2-3 Unity developers and 1-2 artists. If a company is working on a product in which CPI is tested, then 1 developer is allocated for this. Accordingly, the team can simultaneously develop two products that are tested for CPI. Or it can be a mix of a product in the CPI stage and a product that is already in the grinding stage. Now, all Flime can work on 4-5 products at a time.
Also, the company has a Fast Team. It brings together a large number of developers, for rapid prototypes, with a focus on CPI. If the idea gets a good CPI, work begins on the game.
Flime is now aiming to increase the number of internal studio teams up to 7 pieces.
How long does a project take on average?
There are games with a lot of mechanics, and they take longer. There are projects in which you only need to tighten up the metrics. Somewhere, the team has to spend more time searching for creatives. There are times when everything goes smoothly at once.
The company strives to ensure that it takes 4-6 weeks from product development to its release on the global market.
Perfect CPI
Passing CPI is at the level of $0.20-0.25. But, it all depends on the correlation between CPI and LTV. If LTV is promising, then the company may compromise on CPI a little. Although not the most pleasant CPI at the level of $1, but not always a verdict.
Creativity in hyper-casual games is not just about taking an original idea from somewhere, but about bringing it to a finished game with good metrics.
Why are hyper-casual games so popular?
There is only one reason for this – the shallow threshold for entering the market. Two years ago, it was possible to build a concept, get together with friends, get a low CPI, release the game without fear of cloning, and share the income. It worked for a one-time job. Today, the product approach is essential. There is no longer a low entry threshold. There are enough professionals on the market who know how to make games many times cooler than amateurs, no matter what excellent idea they come up with. For indie developers today, hyper-casual games are a meat grinder where it is difficult to compete and even harder to make money.
297